This week we are talking about rocks and stone and shell all great products for drainage and using as a decorative accent to your landscape. Make sure you use a Weed Block with these products to prevent weed growth and also mixing the stone with the dirt.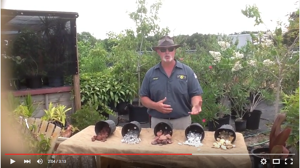 Lava Rock is porous and light weight. Since it weights a lot less then other materials, it is very easy to work with. Lava Rock helps to deflect heat from the soil. It is more effective in retaining moisture most mulch products and will not rot, decay or fade.
River Stones or pea rock comes in many sizes and colors. Sizes range from 3/8" up to 5", colors from white to brown. Their smooth surfaces make it a great product for driveways, walkways, drains and general ground cover.
Coquina Shell Early Florida construction product, if you have ever been to Saint Augustine you have seen it everywhere. Its small size allows for great ground cover, walk ways or general landscaping.